My new friend, Amy Shojai is the author of Complete Kitten Care. I wrote a review of her book on Tuesday. Today, I want us to have a conversation with Amy. I hope you enjoy getting to know her as much as I have.
Hi Amy, I'm happy to have you hear. Thanks for coming by for a chat. I know our readers are going to love getting to know you. I'm excited to talk about your book so let's get started. 
Ali: Amy, how did you fall in love with kittens? Tell us your story.
Amy: Hi Ali, thanks so much for your interest! I think that I must have been a cat in a former life. When I was a child I never played with dolls—I had stuffed toys that I loved. One was a "talking dog" and the other was Snowball the "flying cat." I read every horse, dog and cat book I could find (Thomasina is still a fav!) and rescued all sorts of critters like baby bunnies, birds, snakes, turtles.  
I even tried to bathe a stray cat in a mud puddle with a bar of soap I found (hey, I was 4 years old!). My mom told everyone, "When Amy grows up she won't have babies, she'll have puppy dogs and kitty cats." Mom was right.
You know how some folks "ooooh and ahhhhhh" and have the urge to snatch up that baby or toddler they meet? Well, that's the feeling I get whenever I see a kitten (or a cat or dog). In some sweet way, they strike a special chord with me and it's reciprocal, I can actually feel that sort of emotional vibration when we see and "recognize" each other.
"Oh, you get it," thinks the cat, "you're one of US."
And I just want to purr in response. *smile*
We didn't have pet cats, though, and I grew up with dogs and schmoozed with the animals on my Grandma's farm. It wasn't until I began working as a vet tech that I could get a regular kitty fix, and as a result, that led to writing about cats and dogs for the "pet press." Before I knew it, I was interviewing experts all over the country about cat issues and translating the "medicalese" into everyday language you and I understand. Basically I became a translator of kitty-licious info!
Why do kittens purr? What's the deal with catnip? How can you stop kittens ambushing your ankles (on the stairs?!). When you step barefoot on that slimy cigar-shaped "whoops" in the middle of the night, where to you go to stop hairballs? Who do you trust to de-flea your kitten without killing the cat? Can kitties be trained? (yes!)  Oh, I asked all these questions, and more, and fell even more deeply in love with the mysteries, the antics, the beauty of kittens and cats.
Ali: Why did you write Complete Kitten Care?
Amy: Oh Ali, that's a funny story and one the writers out there will appreciate. At the time I was with an incredible agent and was in late stages of final edits on two other titles—The First-Aid Companion for Dogs & Cats and Pet Care In the New Century (now updated/revised). I received an invitation from an editor that I knew through the Dog Writers Association of America to write KITTENS FOR DUMMIES for her.
You see, I'd already written an earlier less comprehensive kitten book (now vastly out of date) for that same editor many years earlier when she was with another publisher. I was so busy with the other books I was reluctant to commit, especially since the DUMMIES titles at that time were not paying particularly well—they are copyright by the company so authors get a one-time work-for-hire fee and no royalties. But my wise agent advised me to take the gig, so I knocked myself out to get the book done. I wrote KITTENS FOR DUMMIES and turned in the manuscript by deadline, and it was accepted.
A week later the editor emailed that my book was cancelled and wouldn't be published, because the DUMMIES publisher had just been sold.
Since I'd fulfilled the contract, I still got paid, the rights reverted to me, and I sold the manuscript (reformatted of course) to New American Library and was paid a second time, plus royalties. That book became COMPLETE KITTEN CARE, and went on to win multiple awards, and has since been revised and re-published yet again. So I suppose you could say it's like a cat and living multiple lives.
Ali: What is your hope for the person reading your book?
Amy: COMPLETE KITTEN CARE is a celebration of these special creatures that fill our lives with love. I hope the book offers answers to all the must-knows about cat and kitten care, and even provides information that surprises and delights.
While writing the book, I was on tour as the national spokesperson for the Purina Cat Chow Way of Life Tour, lecturing in 30+ cities about cat behavior and training. We partnered with local shelters for adoption events. Many of the pictures in the book came from these events and quite a bit of the content was shaped by the questions and misunderstandings about cats and kittens that I witnessed while on the road. That's where I developed C.A.T.—Cat Attitude Training, and various tips for helping pet parents deal with and understand feline foibles.
So I hope the book debunks hurtful cat myth-eries, brings a smile to the readers' faces, and offers guidance and resources for providing the best care possible for fur-kids.
Ali: What question are you asked most often about caring for kittens and what is your answer?
Amy: Wow, there are a couple common questions that come up again and again. One has to do with hurt feelings when a kitten's c'attitude

changes from a lap-sitting snuggler into a "don't touch me!" adolescent or adult. Owners want to know how they can persuade the cat to be affectionate again, and they don't understand that this is simply the way many cats mature.
Pretty much all kittens are clueless and love everyone, and relish lap time. People love the contact and feel rejected when the grown-up cat refuses close contact. Cats simply show affection differently than touchy-feely humans (we are primates, after all!). For a cat, too much touch can be aggravating while just sitting in the same room or playing together may be the epitome of cat love. Cats show love in unique ways, and every cat is unique. In my experience, kittens grow up to fit in two broad categories—lap snugglers or ankle rubbers. Ankle rubbers love attention and play but can sit still long enough to snuggle. Lap snugglers may demand so much attention you get nothing done because they lounge on your computer keyboard or sleep on your face.
Ali: I'm an owner of two cats. Your grooming tips are very helpful. I especially like the home remedy tips for detangling matted hair. Would you share a few home remedies with our readers?
Amy: The key to detangling fur is setting up a routine and combing/brushing on a schedule. It's less objectionable to the cat for you to spend 2 minutes each day on grooming than a single marathon session once a month—and you'll prevent the worst problems. If you do develop a mat on the cat (check behind ears, under the tail, and the creases of the "arm pits") you can use corn starch rubbed into the mat to help separate the hairs. Comb from the edge of the mat a bit at a time to break up the tangle. Oh, and always start and end grooming sessions with the cat's "sweet spots" like combing the cheeks or chin so kitty associates the session with something pleasant.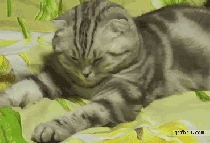 Ali: As a storyteller, I love part five of your book, "Ten Cat Legends." Would you give our readers a sneak peek into your favorite legend?
Amy: I love cat legends! Someday I'd love to write a novel based on some of these wonderful stories, like the Noah's Ark legend that says cats were born out of a lion's sneeze. Probably my favorite story, though, is how the Tabby Cat got the "M" on the forehead—a blessing from the Madonna for the cat's gift to a holy Child one special Christmas morning.
Ali: I am smitten with the section on training kittens. When our Maine Coon, Josie, came to live with us, she was three years old. She could fetch just like a dog. That fascinates me and I've always wondered how to train a cat to do a trick like this? Would you share some tips with our readers?
Amy: Bribes are legal. *smile* I'm being facetious but in a way, it's true. Don't you perform better at work knowing you'll get a paycheck? Cats are no different and perform better when they associate a behavior with something pleasant or a "pay day" for them. The key is to find what the individual cat likes best—that might be a smelly fish treat, or a feather toy. Once you find out what floats YOUR cat's boat, you reserve that reward for training sessions.
With cats it's best to find behaviors they do naturally, wait for them to perform them (kitty SITS for example) and then give them the reward. By using a clicker you can mark the behavior with that unique sound CLICK! just when the furry nether regions touch down, and then give the treat/toy reward. That way your kitten learns that the CLICK means the behavior is what you wanted, and the reward reinforces that notion making it a pleasant association.
Kittens are easiest to train because they don't know any better to argue, and life is a playground. Short sessions of 5 minutes each a couple of times a day work best. If you use treats, make them teeeeeeeny (kitten tummies are tiny, too). Before you know it, your kitten will discover she can turn you into a treat machine and will look for fun things to do to earn that treat—and that's a win-win for you and your special cat!
Amy's book, Complete Kitten Care. is the winner of three CWA Muse Medallions. Congratulations Amy.